About Me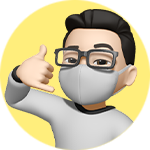 I am Yusuf Arifianto, Graphics Designer, Indonesia. I have rich experience in Multimedia design, building and customization, also I am good at Technolgy.
Congenital Skill
UI/UX design
Create amazing and clean look user interface and easy to learn
Photo & Video Editor
Dynamic look, fresh and energic for get best experience
Develop
Make some unix code and unix system to make everything is easy
Looking for other skill? Click here to talk with some coffee! 👋
Experience
2015 - Present
Graphic Design Supervisor - waterplus+
content creator include: graphic design, illustrator, movie, bumper, product branding and marketing support.
2019 - 2020
Media Director - MyJuice Indonesia
content creator include: graphic design, illustrator, movie, bumper, and marketing support
2014 - 2015
Motion Creator - Real Motion Jakarta
logo bumper, motion movie, explainer movie animation and visual fx
2013 - 2014
video & graphic designer - PESKIA indonesia
movie creation ex video clip, short movie also include poster and graphic material
2010 - 2013
Graphic Designer - YouthtwayLabs
books layout printed, mockup product, graphic & design creator
Recent works
Everything
Creative
Art
Design
Branding